Medical ID (Free): In Case of Emergency
7.8.5
Emergency App – Help EMTs Know About Your Medical History
Do you have allergies? Do you want the EMTs (Emergency Medical Technicians) to know about them before giving treatment? If yes, then this emergency app can prove to be of a lot of help. Medical ID: ICE is a nice app that allows you to make your medical information easily accessible for medics and doctors in case of an emergency. During a medical emergency, you don't have time to waste. The medics and doctors have to make quick decisions to save a patient's life. They need to have access to the patient's medical history so that they can make informed decisions and provide the best possible care to them. With this app, you can provide this crucial information to the doctors without them having to unlock your phone.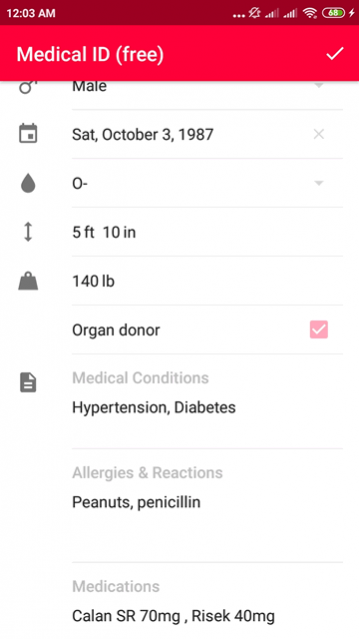 Medical ID: ICE has a simple user interface that is backed up by a user-friendly design and layout. You won't have any issues in using this emergency app. However, beware that it will ask for a lot of personal information. You have to provide it as this information will be needed by the first responders and doctors who will be treating you in case of an emergency. There is a complete medical profile that you can create on this app. This profile will have all the relevant medical information needed by doctors to ensure that the right medication and treatments are given to you as quickly as possible. Do keep in mind that you can only create one profile in the app's free version.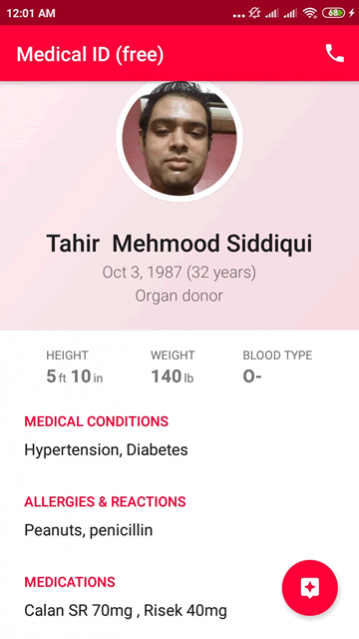 This emergency app requires you to insert your basic information first into the medical profile. After that, you will be asked about the allergies that you have. This information is needed to ensure that no medication is given to you that will result in an allergic reaction. In addition to the allergies, the medical profile will inquire about the medical conditions or illnesses that you suffer from. The doctors need this information to know what other diseases you have so that they can create a treatment plan that caters to your other medical needs as well. Lastly, you need to add any medications that you are regularly taking into the medical profile. Again, this information is crucial for doctors so that they don't prescribe any medication that contradicts the medication you are already taking.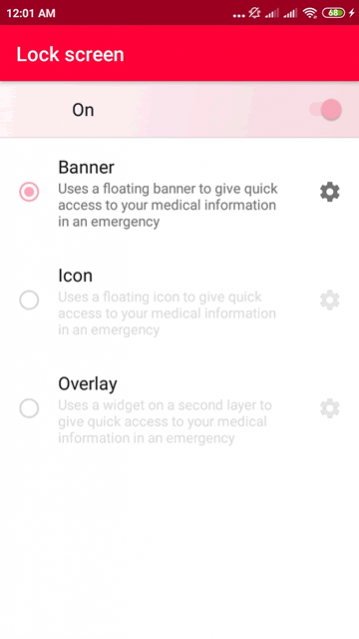 Medical ID: ICE allows you to display the medical profile you have created on the lock screen of your device. This ensures that the medical team can access it without having to unlock your phone. You have control over the type of display you want for your medical profile. For instance, you can decide whether there should be an icon or a banner that will let them EMTs know what to do to view your medical information. Also, there are various other customization options that you can choose to personalize the display of the medical profile. You can also check your BMI (Body Mass Index) and add calling information of emergency contacts in this emergency app.
Features:
Simple user interface
User-friendly design and layout
Make your medical profile
Add your medical information
List down the allergies you have
Write down illnesses or medical conditions you suffer from
Add any medications or drugs you take
Multiple display options on the lock screen
Check your BMI (Body Mass Index)
Include emergency contacts and their numbers
Quickly access emergency services
Conclusion:
Medical ID: ICE is an app that is aimed at people who want to ensure that their medical information isn't hard to acquire for doctors trying to save their lives during an emergency. It gives them the chance to store information about their allergies and medical conditions on their phones and lets them display it on the phone's lock screen. It is an excellent emergency app and having it on the phone can help doctors in saving your life.
---
Add a review
Tell us your experience with
Medical ID (Free): In Case of Emergency
7.8.5
RELATED PROGRAMS
Our Recommendations
---
---
---
---